When:
February 12, 2014 @ 10:00 pm – February 13, 2014 @ 2:00 am
2014-02-12T22:00:00+00:00
2014-02-13T02:00:00+00:00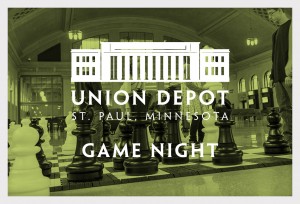 Union Depot hosts Board Games Nights every Wednesday from 4:00 p.m. to 8:00 p.m. Guests of all ages will be invited to play giant-size versions of many of their favorite games including Chess, Checkers, Kinect Four, Dominoes, Jenga, Tic Tac Toe and others. The events are free and open to the public and guests are also invited to bring their own games.