When:
November 5, 2019 @ 11:00 am – 12:00 pm
2019-11-05T11:00:00-06:00
2019-11-05T12:00:00-06:00
Where:
Union Depot - Head House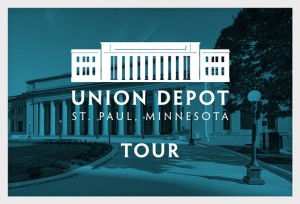 Ramsey County Regional Railroad Authority is pleased to offer free public tours of Union Depot. This tour will explore the history of Union Depot, allow you to experience the beauty and majesty of the historic renovation, and will inspire you to embark on your next journey from Union Depot. You will learn about the building's use over time, how crews restored the structure to its original splendor, and how a commitment to sustainability and green building practices led to Union Depot's certification for Leadership in Energy and Environmental Design (LEED).
Tour are available every other Tuesday at 11:00am. Tours start promptly at their scheduled time and depart under the East clock in the Head House.
PLEASE NOTE:
You will be on your feet for the whole 60 minutes.
Tour is the equivalent of walking approximately 4 blocks.
Union Depot does not provide wheelchairs. Please bring your own.
For questions please email info@uniondepot.org.
Bring your camera and get ready to have fun!
Private Group Tour Information
Private group tours must meet the following requirements:
•Minimum of 15 persons, with a minimum private group tour fee of $90 (Cost per person is $6)
•All payments must be made in advance of the scheduled tour. (Only business checks, cashiers checks or money orders are accepted.)
•Private group tour requests must be made a minimum of 30 days in advance and are scheduled based on availability.
•FOR STUDENT GROUPS ONLY – Group size is limited to 30 persons.
To request an application for a private group tour, please contact (651) 202-2700 or email info@uniondepot.org.