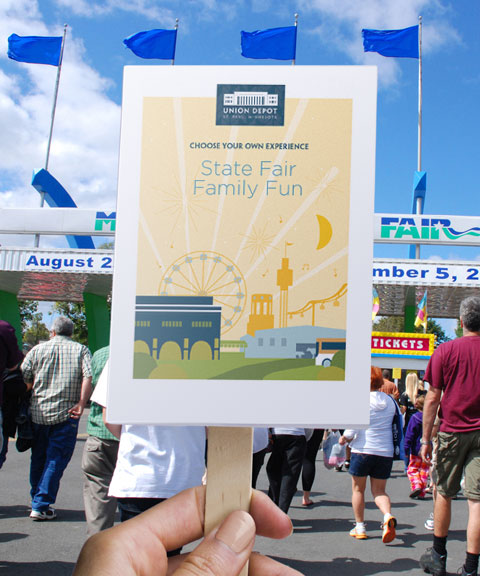 Download a printable version
The Fun Starts At Union Depot
For 12 days every summer, the State Fair is one of Minnesota's premier destinations, and we're your go-to destination for getting there smoothly and enjoying the day even more. Here's how:Trip Tip #1 — Park in one of our covered ramps to keep your car cool.


Trip Tip #2 — Take the

3 bus straight to the fairgrounds from Union Depot.


Trip Tip #3 — Or you can take the

Green Line

to the

A Line if you prefer to travel by light rail.


Trip Tip #4 — Play our scavenger hunt quiz! It's fun for everyone, especially if you're exploring the fairgrounds with the kids.
State Fair Scavenger Hunt Quiz

Who is Princess Kay of the Milky Way this year?
What's one new food you tried?
What's one new food you didn't try?
What are five farm animals you saw in barns?
What's your favorite seed art?
Make it a visual scavenger hunt by snapping pics and tagging your photos with #mnstatefair and #uniondepot. We'll be watching for them!