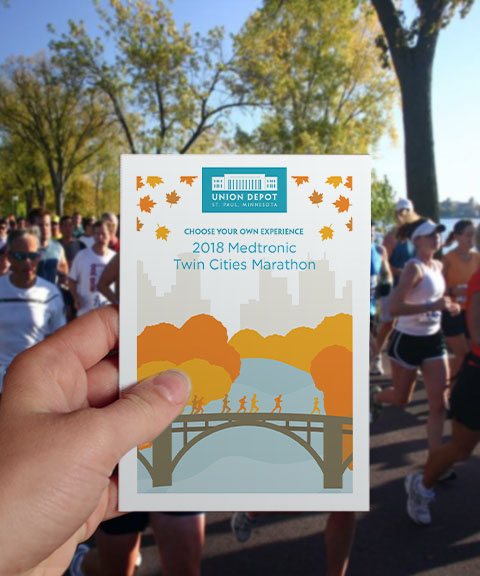 Download a digital version
Union Depot Shuttle To Twin Cities In Motion Health And Fitness Expo
Union Depot, Official Transit Hub of the Medtronic Twin Cities Marathon Weekend, will provide free shuttles to the expo on Friday and Saturday. Shuttles will depart every 20 – 30 minutes from the curb cutout in front of the Kellogg Entry.
Visit the Expo page for more information on packet pickup and vendor information.
Public Transportation To Beginning, Middle And End On Marathon Day
An efficient way to view the marathon is to take advantage of light rail and bus service. Buy an All-Day Pass for the best savings, and follow this convenient itinerary, starting and finishing at Union Depot.
Ride the bus or park at Union Depot.
Take the METRO Green Line to U.S. Bank Stadium Station.
After the marathon begins, take the METRO Blue Line to the 50th St./Minnehaha Park Station.
Walk a couple blocks to the marathon course at approximately Mile 15.
Return to 50th St./Minnehaha Park Station, and take the Blue Line to the 46th St. Station. Board an A Line bus, and take it to Snelling and Grand Avenue. Walk a block to Summit Avenue.
Take the A Line to the Green Line Station at Snelling and University.
Take the Green Line to the Capitol/Rice St. Station where the marathon ends.
Take the Green Line back to Union Depot.