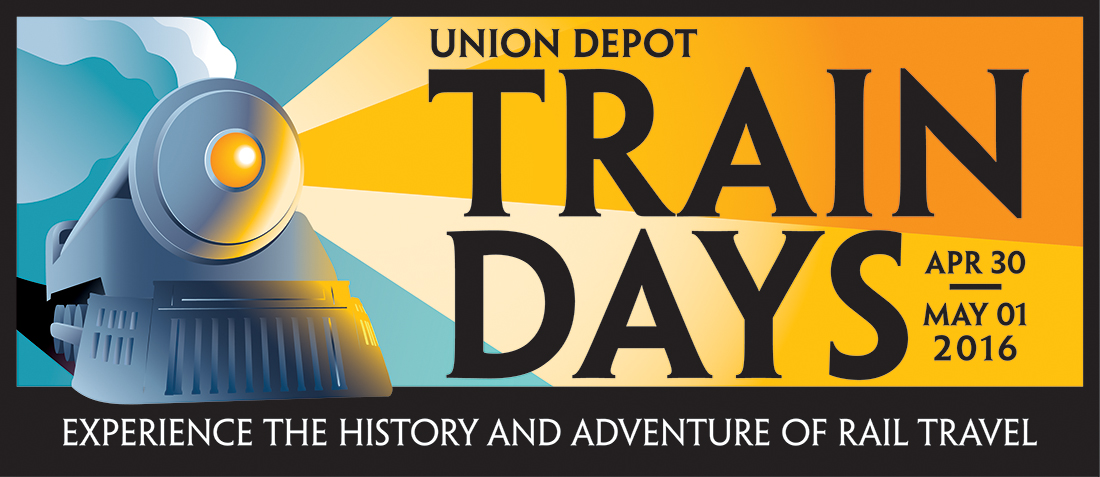 Join us for a celebration of trains and transportation – Saturday, April 30, 10 a.m. – 4 p.m. and Sunday, May 1, 11 a.m. – 3 p.m.
Enjoy a fun and educational experience as we highlight the history and future of passenger train travel, the historic and current role of freight railroads in our region, and changing transportation trends and needs. All will enjoy a wide variety of free transportation-inspired activities. The weekend will include train equipment, musical entertainment, special events and activities for all ages.
Getting to Train Days
Don't get stuck in construction tangles, detours and road closures on Saint Paul, Ramsey County or Minnesota Department of Transportation roads. Please note that the intersection at Jackson & Kellogg is closed and I-94 between 280 and downtown Saint Paul will be closed all weekend.
Metro Transit is offering FREE rides to Union Depot during Train Days (download free ride pass). Enjoy the freedom of the Green Line or taking the bus! Minnesota Transportation Museum is again offering free rides on vintage buses during Train Days between their roundhouse on Empire Drive and Union Depot. Parking, biking and walking are other options available to visitors.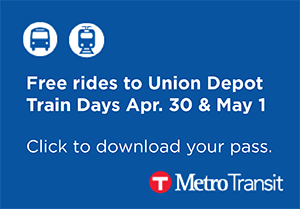 Exhibitors 
Como Shops – railroad books, timetables, maps
Charles McCreary – railroad book, photos of Union Depot
Yard Goat Images – interesting railroad DVDs
John Cartwright – railroad drawings
McClean Depot Train Shop – books, model railroad supplies
North Star Trains – books, models, memorabilia
K&A Rail Products – t-shirts, sweaters, coffee mugs
Jim Shepard – books, DVDs, railroad slides
Usborne Books and More – awesome books for children about trains and all things transportation
Kalmbach Publishing Co. – publisher of Trains and Classic Trains magazines (Train Days sponsor)
Standard Gauge Display
Ladysmith, WI, Rail Display
MN Free-MO Modular Railroading
Soo Line passenger locomotive (large-scale, steam model)
West Central Wisconsin Rail Coalition
And MORE
Railroad Equipment
*Amtrak will offer American Sign Language (ASL) tours led by a deaf Amtrak employee during the Exhibit Train stop in St. Paul. Tours will be offered at 11 am and 2 pm on April 30 and May 1. The tour meeting location will be at Gate C in the Waiting Room and designated with a sign "Amtrak Exhibit Train ASL Tours."
Entertainment
Musical entertainment provided by Cannonball Paul – A vintage railroad themed band
Diesel engine simulator
Chuggington® Kids Depot
Kids bounce house at our Rail View Picnic Area
Ticketed Events
Laker Rail multi-media shows by top railroad photographers of railroads in action across the Midwest and United States – $27 – 1:00 p.m. – Saturday, April 30
An exciting multi-media exhibition of railroad photos and video set to music, featuring the work of some of the nation's top railfan photographers. Programs are 15-20 minutes long, and will start on the hour and half hour. Cash bar will be open for the duration of the event; two hour break for dinner (not included) from 5:00 to 7:00 p.m. This event will be held in the Union Depot Red Cap Room which overlooks the historic Waiting Room. Tickets for Laker Rail can be purchased at the door.
Friday Night Photoshoot of railroad equipment – $20 – 8:00 p.m. – Friday, April 29
A rare opportunity to shoot "behind the scenes" on the platform of Union Depot, featuring steam locomotive Milwaukee Road 261 and streamlined FP7A SOO 2500A. Lighting provided, but we suggest bringing a tripod and remote shutter release for your cameras. Locomotives will be facing southwest. The equipment will then be moved to make way for Amtrak's Empire Builder, scheduled to arrive at 10:00 p.m., which you'll also be allowed to photograph from the platform. Photography experts from National Camera Exchange will be on the platform to offer suggestions to nighttime photography newcomers. Instagrammers are welcome! Tickets for the Friday Night Photoshoot can be purchased at the door.
Save $7 online and attend both the photoshoot (Friday) and program (Saturday) for $40!
Yoga on the Train – $10 (+fees) – 9:00 a.m. – Saturday, April 30
This class will be taught in the same style as our weekly Saturday morning yoga class with the talented instructors from Studio925, but take place on the historic Golden Valley Baggage Car. Tickets for Yoga on the Train are $10 (+ fees) and all proceeds go directly to the non-profit charity Friends of the 261. All purchases are tax deductible. Tickets are limited so reserve your spot now!
Education Sessions
On the morning of April 30, three railroad professionals and photographers will discuss their personal experiences and interaction with the Union Depot and its employees when the depot was served by privately operated passenger trains. These special sessions are free, open to the public and will be held in the Veterans Gallery (with views of the East Plaza, train tracks and what used to be a very busy Union Depot railyard complete with a roundhouse). Sessions will be held on the hour at 10 a.m., 11 a.m. and noon.
Gary Nelson – Working On Great Northern Passenger Trains, 10 a.m.
Willmar native Gary Nelson will discuss his experiences working for the Great Northern Railway on passenger trains out of the Union Depot in the 1960s. Nelson regularly served as a trainman on Great Northern streamliners such as the Empire Builder and Western Star, working between the Union Depot, Willmar and Fargo. He retired in 2008 after 42 years of service to Great Northern, Burlington Northern, and BNSF Railway.
Charles B. McCreary – Trains of the Union Depot in the 1940s and 1950s, 11 a.m.
Charles B. McCreary took his first railroad photographs in the 1940s. He made several trips to Union Depot during the heyday of passenger train service in the 1940s and 1950s. He will show photos and discuss his experiences photographing both steam and diesel powered trains that operated out of Union Depot in that era. McCreary is a retired physician who spent 17 years in family practice in Minneapolis. He also worked in the public health field, including five years doing medical work in India.
Byron D. Olsen – St. Paul Union Depot's Last Years, 12 noon
Byron D. Olsen will make a presentation on his visits to the Union Depot to photograph and ride trains during its last years in the 1960s and 1970s. Olsen grew up in St. Paul and went to work as an attorney for the Great Northern Railway in 1967. His office was at Great Northern headquarters across the street from Union Depot. He made many visits to the building, including the last day of private passenger service on April 30, 1971, the eve of Amtrak.
Questions? Send us an email.
Interested in exhibiting at Union Depot Train Days? Click here for more exhibitor information.
Thank you to our sponsors!


Tag your Instagram photos with #UDTrainDays for a chance to win cool prizes! 10 lucky winners will receive a Union Depot Train Days poster and a copy of Union Depot: Historic Structures Report, a limited-edition, hard-bound coffee table book about the architectural history of the historic Union Depot.