On Saturday, February 4th from 10 a.m. to 1 p.m. Union depot will become Doggie Depot and be the bark of the Saint Paul Winter Carnival. Join Union Depot, Sidewalk Dog, myTalk 107.1, KS95 and sponsor Animal Emergency & Referral Center of Minnesota for the doggie event of the year at Union Depot. Representatives from Sidewalk Dog will be on hand to share tips with guests about the Twin Cities' most pet-friendly restaurants, retailers and more. The Doggie Depot event is free and open to the public and guests are encouraged to bring their dogs to Union Depot for this special event.
Congratulations to Canine-King Boreas Revere and Canine-Queen of Snows Dory, our 2017 Saint Paul Winter Carnival canine royalty!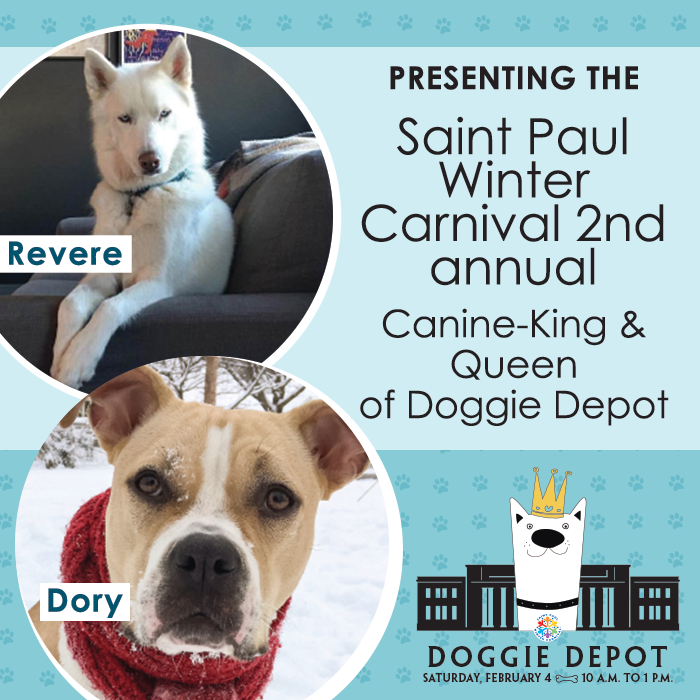 Getting Here:
Union Depot also has plenty of onsite parking. Lots B and C will be only $4! For directions, visit our parking page and click on the maps.
Doggie Depot Stage Schedule:
10:15 a.m. to 10:45a.m.     Q & A with Katie K-9
10:45 a.m. to 11:00a.m.     Ask a Vet with Animal Emergency & Referral Center of Minnesota
11:00a.m. to 11:15 a.m.      Doggie Fashion Show
11:15a.m. to 11:45 a.m.      Q & A with Katie K9
11:45 a.m. to 12:00 p.m.    Lowertown Bike Shop – Tips for biking with your dog
12:00 p.m. to 12:15 p.m.   Crowning of the Saint Paul Winter Carnival Canine-King Boreas and Canine-Queen of Snows with Staci
12:15 p.m. to 12:45 p.m.    Ask a Vet with St. Paul Pet Hospital
12:45 p.m. to 1:00 p.m.     Doggie Fashion Show
11:00 a.m. to 12:00 p.m.    Doga: Yoga with Your Dog! Breathe and stretch with your favorite "dogi," in a class led by a professional instructor from Studio925, and become a happy pack. The cost of the unique Doga class will be $10 and 100 percent of the proceeds will be donated to the two winning pet charities from the coronation contest. To register, visit: https://dogaatdoggiedepot.eventbrite.com/
Doggie Depot Vendors:
Finley's Barkery
Molly & Me Dog Boutique
Sidewalk Dog MediaWoofington
NutriSource Pet Foods
Dog Days St. Paul
Just Dogs Gourmet
Norwex Cleaning Supplies
Young Living Essential Oils
Skidbarks
Iron Dog
Rio Grooming
Argosy University
Hound Dawg Paw Balm
Z ART
Farmina
Little Bear Animal Massage
NelliDesigns
St. Paul Pet Hospital
Mackerchiefs
Tangerine House of Design
Bentley's Pet Stuff
Dog Day Getaway
Northwoods Salvage
Pet Wants Minneapolis
LuLu & Luigi
Advanced Carpet Restoration
Steven Scott Management
Rock Dog Movie Promo
Pucci Pet Careers
ScoopyPoo
HipKlip
Scentral Park
Animal Emergency & Referral Center of Minnesota
Fresh Air Training
Lexi The Pug
KME Photography
Doggie Depot Rescue Shelters:
B.A.R.K MN Rescue
Saveabull Rescue
Minnesota Boxer Rescue
Grey Face Rescue Hospice/ Grey Face Rescue & Retirement
Underdog Rescue, MN
Pet Haven, Inc. of MN
Carver Scott Humane Society
Secondhand Hounds
Gemini Rottweiler and Pitbull Rescue
No Dog Left Behind
Animal Ark Rescue
United Doberman Rescue & Canine Castaway's of MN
Doberman Rescue Minnesota
Adopt A Husky, Inc.
My Pit Bull is Family
Ruff Start Rescue