When:
December 6, 2014 @ 4:00 pm – 10:00 pm
2014-12-06T16:00:00+00:00
2014-12-06T22:00:00+00:00
Where:
214 4th Street East
Saint Paul, MN 55101
USA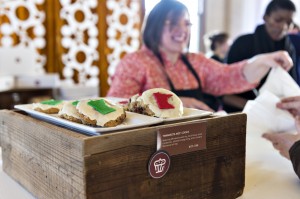 As a kick off to the holiday events schedule, the Holiday Bake Sale, Union Depot's annual holiday gathering will host top Twin Cities bakeries on Saturday, December 6, 2014 from 10:00 a.m. – 4:00 p.m. in the Waiting Room at Union Depot. Guests will experience a mix of modern and historic holiday décor. Activities include: cooking demonstrations, musical performances and fun giveaways throughout the day. Admission is $5 for adults and seniors; kids under 12 admitted free. Commemorative holiday tins will be sold for $10 and include one general admission, recipe cards from participating bakeries, a Union Depot specialty cookie and a drawing form to enter to win prizes.
Part of the proceeds will benefit Share Our Strength's No Kid Hungry Campaign. No child should grow up hungry in America, but one in five children struggles with hunger. Share Our Strength's No Kid Hungry® campaign is ending childhood hunger in America by ensuring all children get the healthy food they need, every day. The No Kid Hungry campaign connects kids in need to effective nutrition programs like school breakfast and summer meals and teaches low-income families to cook healthy, affordable meals.  This work is accomplished through the No Kid Hungry network, made up of private citizens, public officials, nonprofits, business leaders and others providing innovative hunger solutions in their communities. Join the movement at NoKidHungry.org.
NEW THIS YEAR! Union Depot will be making specialty cookies for the bake sale with their Bee Line Honey. Union Depot is home to five rooftop beehives. These hives help support the endangered honeybee community while producing a healthy and delicious treat. Honey produced by the Bee Line bees is collected to make sweet treats available for purchase, but this is the first time it will be used to make cookies. Bee Line Honey will be available for sale for the first time at the Holiday Bake Sale. Union Depot partnered with Mademoiselle Miel, a St. Paul beekeeper and chocolatier, to oversee their beehives and creation of honey treats.
BAKERIES:    Annie B's; Barkley's Bistro; Bars Bakery; Birchwood Café; The Buttered Tin; Common Roots; Cookie Cart; Curly Girlz Candy; Foxy Falafel with Sift Gluten Free Bakery; Groundswell; Groveland Confections; Petite Sweets; St. Paul Classic Cookie Company; Union Depot's Bee Line Honey Cookies and More!
Immediately following the bake sale will be the annual Holiday Tree Lighting Ceremony from 4:00 p.m. – 5:30 p.m. on the North Plaza of Union Depot where there will be refreshments, musical entertainment, fireworks and an opportunity to take a holiday photo. The tree lighting will take place at 5:00 p.m.
Holiday events continue on December 12 and December 19 when Union Depot will once again host FREE movie nights.  All movies will be shown in the Waiting Room. Concessions will be available for sale during all movie nights.